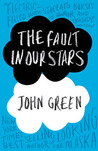 The Fault in Our Stars by John Green
My rating: 5 of 5 stars
One of the very few books that left a Mark on my Heart. I can read and re-read the book all day without ever getting bored.
The story is very Heart-Touching and the characters are Amazing. Some characters seemed somewhat familiar, perhaps because i know some people who are more alive than others and who always want good for others.
Hazel Grace, knowing what she is and trying to minimize the after-effects of her death, this is so brave, even for a fiction character. And then there is Mr. Augustus, i would really want to have persons like him as Friends. BEST CHARACTERS one can ever have in a perfect story; BEST PARENTS, BEST FRIENDS, BEST STRANGERS,….
All i can say is that this is the best Romantic Novel i have ever read. It felt more like A Walk to Rememberby Nicholas Sparks.
Thank you John Green for such a wonderful journey. God Bless U.